Pioneering the field of parasitic extraction & subatomic facilitation, Emmie has devoted much of her life to understanding the in's and out's of her craft. With over 20 years of field work she is now ready to begin teaching!! Not only are we offering KOKORO33 learning, we are also including shamanic teachings to really round out the foundation from which you are building your spiritual journey. The lessons will be taught through mixed media and Emmie will be going live with exclusive content and other amazing learning opportunities. We will also be having guest speakers contributing their own specialties. This program is "work at your own pace" and, although highly encouraged, attendance is not mandatory.
The first topic of focus is a three month course - Parasitic Programs. In this program, we will be covering the different strains of parasitic beings, learning how to detect them, and also techniques that provide you with a bolstered first line of defense. This is merely the first level in a multiple tier program. At the end of the this 3 month course, those who show a promising fit for this field of work will be invited to take Level 2. Level 2 participants will be hand selected by Emmie herself for level 3- the prerequisite to be considered for an actual apprenticeship opportunity. This first course for KOKORO33 will begin November 01, 2018 and conclude February 01, 2019. After the conclusion of Parasitic Programs, we will continue with the other aspects of KOKORO33.
We are offering three levels of membership. Please click the image to find out more.

Luminous Ceremony
The all natural soy candles are handcrafted by Emmie herself and charged with her love. Each candle contains a divine blend of herbs, flowers, and essential oils to protect, empower, nurture, and support you on your spiritual journey. This item was designed to be a self contained luminous ceremony without all the fuss. The candles come dressed inside their own containers making the performing of this spiritual practice that much easier.
Being as we each have our own unique circumstances and struggles, Emmie is also offering an option to customize the blend of oils and herbs to best suit your personal circumstance. Simply select the "CUSTOM" option.
****Please note these candles are not to be burned unattended and should be placed in an appropriate fire safe container as is appropriate for candle use. ***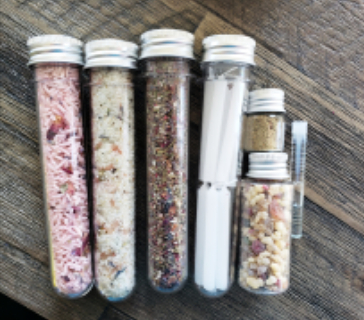 Goddess Kit
This Goddess Kit contains all the goodies needed to deeply support you on your path.
Divinity Rice: Don't be fooled by it's delicate feminine appearance. This rice was created as a means for Divine Feminine Dark Defense!

Soul Soak: a luxurious blend of essential oils, salts, and flora to pamper the body and nurture the soul. It was designed to help cleanse the aura of the darkest of ugly energies as it raises you back up to the god/goddess that you are

Divinity Blend: The most beautiful pairing of oils and herbs to cleanse your sacred spaces, clear malicious darkness, and potently empower you on your spiritual path. This blend includes raw ingredients that have been used by ancient cultures for intense clearings like exorcisms. Don't be fooled by it's beauty for its beauty is equally matched by its badassery!

Luminious Ceremony Mini Kit: This mini kit contains fast burning candles along with specialized oil and powder to dress your candles. It is a perfect introduction into candle magick and self empowerment through Sacred Flame.

Archangel Resin: This resin contains the frequencies that call in the seven archangels to assist and protect you as you travel your spiritual path.

Empress Oil: This oil was custom created by Emmie as memories of her life as an Empress came flooding back. Aside from being the scent of her beautiful hair in that life, it was used to anoint her with protection of the highest caliber.
Blue Ray DNA Activation
As we enter the Pisces Moon, the energies have heightened and allowed for Emmie to offer this service. This is a very special opportunity for those that it resonates with.
Designed as a high level morphogenetic recodement for the members of the 144k promised to come in service to humanity, AA Michael has gifted Emmie with the opportunity to extend this recodement to those it resonates with. This level of activation will harness the Lion's Heart, Regulus23. This is the largest star in the Leo constellation and is known as the star & heart of Michael. Emmie herself was born on the 23rd day of the month and the piscean moon we have entered presents a powerful potentiality. The recipients of this activation will experience a baptism of fire through the sacred heart of Michael.
*** This service might not be offered beyond the period of the Pisces Moon. ***
[a collection of selenite swords and tools to make both Self & Soul smile in satisfaction]